2016: Race Results
Thanks to everyone who came out on an overcast but lovely morning for the 27th annual event Saturday, August 13, 2016. Race results and summary here
General Event Information:
Always the second Saturday in August: mark your calendar!
As a visual aid, we've mapped out the routes on Googlemaps:
The BLUE line is the 5k run or walk (which is a circular route)
The RED line is the 1-mile walk or kids run (which goes out-and-back)
Awards:
Pledge Awards:
Pledges aren't required to participate in the run & walk, simply encouraged and very much appreciated! Go the extra mile as a runner or walker and gather pledge money for your efforts. This year's top prizes are an Apple iPad and a Fitbit Flex. It's worth the effort!
Event Awards:
Awards will be given in the 5k run to the male and female runners finishing 1st and 2nd in each age division.

Kids 14 and under who complete the 1-mile run receive a ribbon. 

All participants are invited to stick around after the race for door prize drawings.
...............................................................
015: Race Results
Thanks to Karla Faust and Activate Lodi for coordinating the 26th annual event Saturday, August 8, 2015. Race results here
2014: our 25th-anniversary event!
Thanks to everyone who came out on a perfect day Saturday, August 9, 2014 for our SILVER ANNIVERSARY event. Also, huge thanks to race coordinator Tom Long for his 25 years of service!! Race results and summary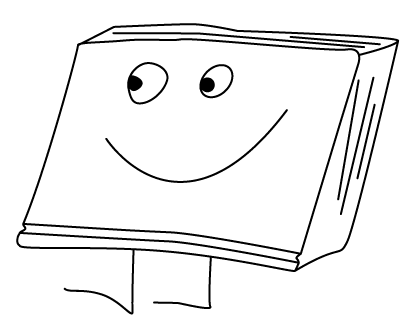 2013 Race Results
Thanks to everyone who came out on Saturday, August 10, 2013 for the 24th annual Lodi Library Run & Walk. Race results here  Our awesome book-guy drawings were made in 2013 by 9-year-old library lover Joe Fowler - thanks for sharing your artwork, Joe!!
2012: Perfect Weather, Great Results!
Thanks to everyone who came out on Saturday, August 11 2012 for the 23rd annual Lodi Library Run & Walk. Race results here