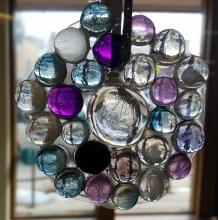 Wouldn't you like a pretty bright piece of art hanging in your window to add some color to these gloomy winter days?
Come make a suncatcher out of glass pebbles and glue! We have all of the supplies you will need. This class is for anyone 18 and up!
If you are interested in reminder calls for Artful Adults or have questions, please contact Jodi at jodi@lodipubliclibrary.org to be added to the list and we will call and remind you the day before each session.