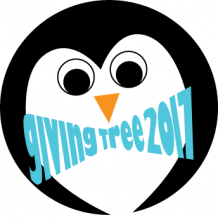 Join the fun of the library's annual holiday donations program by choosing from a fantastic cart full of materials for all ages. Stop in to browse the cart, make your picks, and donate
the indicated amount:
We'll add a personalized bookplate
You'll get the honor of first checkout
In thanks, you get a penguin on our tree
Perhaps you'd like to use this opportunity to HONOR someone, to CELEBRATE a milestone, or MEMORIALIZE those who have passed. Give a gift the whole community can enjoy!