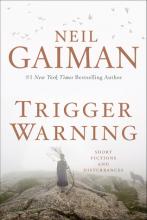 Stop in and pick up the next book for the bookclub discussion on February 18, 2019 at 7pm. We have still both print and audio versions available for immediate checkout.
February's book is Trigger Warning by Neil Gaiman. Here is a brief description from Goodreads:
"In this new anthology, Neil Gaiman pierces the veil of reality to reveal the enigmatic, shadowy world that lies beneath. Trigger Warning includes previously published pieces of short fiction--stories, verse, and a very special Doctor Who story that was written for the fiftieth anniversary of the beloved series in 2013--as well "Black Dog," a new tale that revisits the world of American Gods, exclusive to this collection."
For more information on this book, click here, Goodreads
This year, we will be choosing books from the Goodreads award winners from 2013-2015.
Hope to see you at the library!