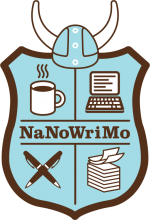 Are you a creative writer (or writer wannabe) celebrating National Novel Writing Month? It's an initiative that challenges writers to reach a goal of writing a 50,000-word novel by November's end. The library has tools to help!
Pressbooks is free online software to create and design print-ready and ebook files. Use it for your book, newsletter, poetry and more.
Once you have your grand opus finished, you can submit it to the Wisconsin Author Project in April 2019. This contest helps writers expose their work to a broader audience - and win a little money and acclaim!