Once, this area along the west side of our building was a bank drive-up lane. Then it was a blighted alley. But now it is becoming a lush, restful place for downtown visitors.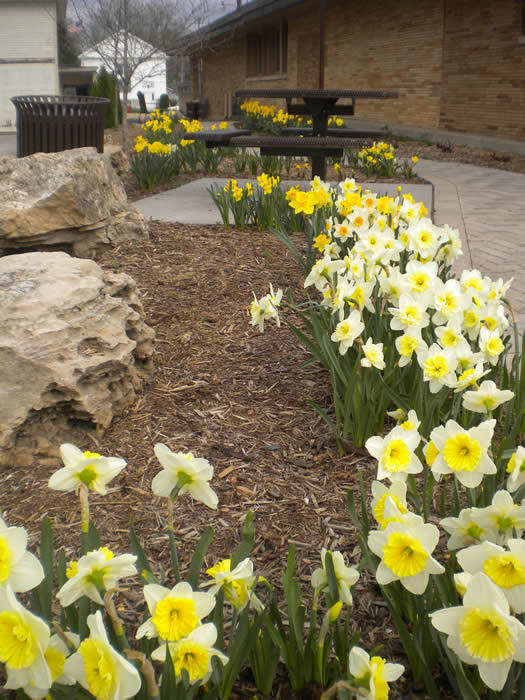 Planting Update: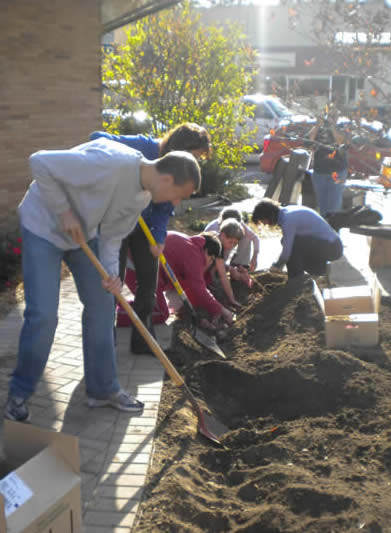 Trees have been planted, shrubs are in, and smaller perennials are gradually being added to the space.
The library is honored to have been the site of the 2012 planting by the Helen & Lyle Bohlman Daffodil & Community Beautification Fund. In memory of 69 community members who passed away this past year, more than 700 bulbs were planted. Did you know Helen Bohlman worked at the library?
Background Info:
Named in honor of our former library director Peg Hilliker, with a nod toward local history and a great garden feel, we're pleased with the new permanent name for our greenspace project.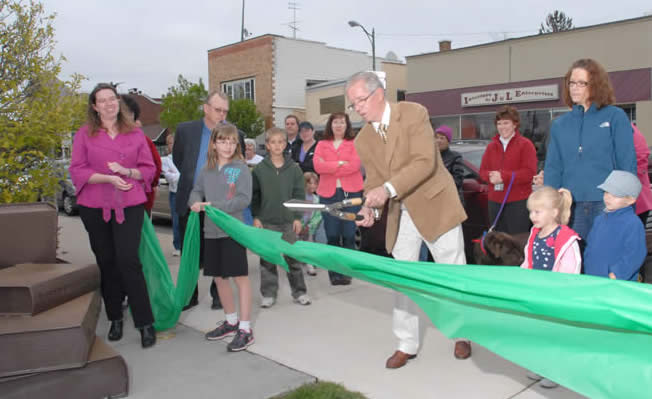 Jerry Hilliker cut the ribbon to ceremonially open the greenspace April 30, 2012.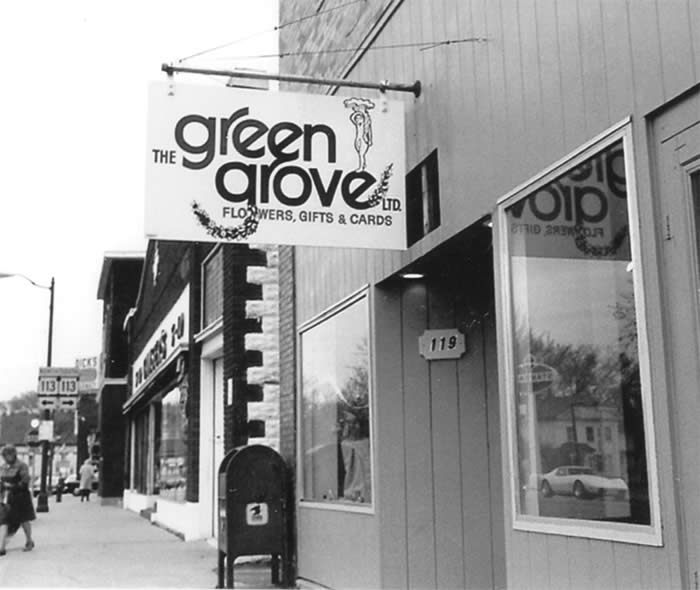 In a community naming contest, seven-year-old Lodian Claire Schoenemann suggested the winning moniker "Peg's Green Grove" for our outdoor reading room.
Years ago, The Green Grove was a floral and gift store owned and operated by Peg & Jerry Hilliker and Shirley & Frank Groves. The store was located across the street from our library, in the building now occupied by Edward Jones.
Book Sculpture
Our fantastic painted steel book sculpture is a functional work of art - it has loops installed so library visitors have a place to secure their bikes. The sculpture was created and donated by immensely talented Lodi artist Dean Allen, shown here (in orange) at the grand opening along with Jerry Hilliker and library co-directors Trisha Frankland and Kristine Millard. 
The five titles featured on the book spines were a few of Peg Hilliker's favorite books:
Put Your Name In Our Walk
The library is offering commemorative bricks for the paver walkway. These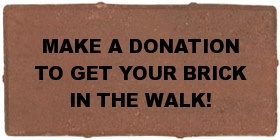 personalized bricks are scattered throughout the grove's walk. For a $100 per brick suggested donation, your standard 4"x8" brick may have up to 3 lines of text with up to 20 characters per line. Brick form (pdf). Or use the new online order form and get to preview your brick text!
Glenda Crook's Lodi High School ag students have been helping swap out blank bricks with newly engraved donation bricks. The original path was laid by Bruce Co.
Rock Recycling:
The irregularly shaped boulders that help separate the greenspace from the parking lot next door have an interesting pedigree: once, they were part of the walls that surround Lodi's Goeres Park. Since their removal from the park, the boulders languished in a back corner of Lodi Canning Co. land - we think their addition to our project was a lovely bit of creative community recycling!
Grand opening event photography courtesy of Gary N-ski - thanks N-ski!