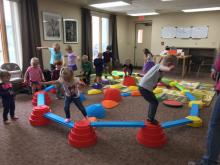 We realize that not everyone can come to Wednesday Music & Storytime/Build and Balance sessions so we are going to try some Saturday times this summer.
Starting Saturday June 22, 2019 and then every other week through the end of August, there will be a Saturday Music & Storytime at 10 am and Build & Balance at 10:30. Bring the kids to sing songs and hear stories. After that, they can get burn up some energy with the balance equipment or build a masterpiece with various building materials!
We hope to see you there!
Dates for Saturday Storytimes:
June 22, July 6, July 22, August 3, August 17, August 31.