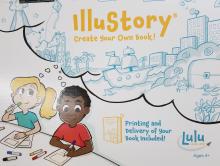 Wow! You are all very enthusiastic! We've already filled the 20 spots but we are taking names on the wait list just in case anyone needs to cancel.
Kids, do you have a story you've been wanting to tell?  This 6-week program will allow you to publish that tale in a beautiful picture book!  Create characters, send them on an adventure, and illustrate your story's world with help from other young authors and library staff.  The first 20 authors to register will receive a free bookmaking kit and a published version of their book.  A reception will be held to celebrate the local authors. 
Parents, please register your child by printing out the registration form, filling it in, and bringing it to the library. There are 20 spots for this class so register asap. We will have a wait list in case more kids want to participate.