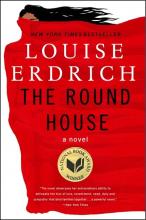 You are invited to participate in Wisconsin Reads, a statewide community reads program, of the novel The Round House by Louise Erdrich.
"Wisconsin Reads The Round House: An NEA Big Read" is a project of University of Wisconsin Colleges and Lac Courte Oreilles Ojibwa Community Colleges' students, faculty, and staff to bring communities around the state together to discuss this title. Written in the voice of a 13-year-old boy whose mother has been brutally raped, the novel explores the impact of the rape on family members and the tribal community in particular, as well as the larger issue of sexual assault on Native American women.
With discussions, films, lectures, art exhibits, and story-telling workshops on university campuses and public libraries in the cities and surrounding areas of Rice Lake, Hayward/LCO, Marshfield, Baraboo, Waukesha and Milwaukee in March and April of 2018, the project also will provide programming for area youth, using Erdrich's children's novel The Birchbark House, as well as her poetry.
To increase participation, downloadable versions of The Round House will be an "always-available" title in Overdrive until April 28.