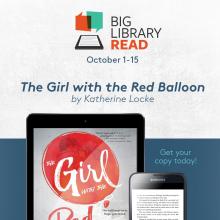 The next Big Library Read title is The Girl With the Red Balloon by Katherine Locke. From now through October 15 you can borrow this ebook with no wait list or holds through the library's digital download system. 
When Ellie Baum accidentally time travels to 1988 East Berlin, she's caught up in a conspiracy of history and magic. She meets members of an underground guild who use magic to help people escape over the Wall. When it becomes clear someone is using dark magic to change history, Ellie must risk everything - including her only way home - to stop the process.
This book was chosen through a poll takend by thousands of OverDrive readers. Big Library Read is a free program that connects readers around the world with the same ebook at the same time.