Please click on the calendar tab above to find a complete list of our events and library programs.
Timeline
Monday, May 23 to Friday, August 26
Registration
Starting Monday, May 23, register in-person or online. Stop in to pick up your Summer Library Program folder and reading slips. Count your reading from Monday, May 23 onward.
Age Groups
Kids are ages 0 to Grade 5
Teens are Grade 6 to Grade 12
Adults are 18 and older
Reach Your Age Group's Goal
Once you reach your age group's goal, bring in your completed reading log, and choose a book from our vault of brand new prize books. You control your destiny.
Image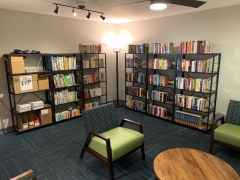 (Vault of prize books)
The More You Read, the Better Your Chances
We have a large collection of additional prizes. We'll pull from the reading slips that are turned in throughout the entire summer program to decide the winners. The more you read, the better your chances of winning a cool prize, including book series, LEGO kits, snap circuit kits, board games, and more. All winners will be notified on Monday, August 29th if they've won. All winners will choose which prize they want at the library.
Reading Slips
All reading slips are available at the library and turned in for a chance to win additional prizes. Take as many as you think you'll need and replenish as necessary. Audiobooks count. Deadline to turn in slips is Friday, August 26.
Kids turn in a reading slip for every hour they read (or are read to)
Teens turn in a reading slip for every 100 pages they read
Adults turn in a reading slip for every book they read
Summer Bucket List Challenges
Kids, Teens, and Adults all have an opportunity to complete a Summer Bucket List Challenge tailored to their age group! Kids and teens earn a prize from our prize cart for every 12 challenges they complete. These are smaller prizes like candy, Rubik's Cubes, Slinkies, invisible ink pens, etc. Adults win a "Octopus 2022" pint glass if they complete 36 of the 50 challenges. All ages can complete their challenges right away or spread them out across the summer.
2022 Adults Summer Bucket List
Image

         (Octopus 2022 pint glasses)                  
Any student going into grades 2 through 8 can participate in this fun bookmaking program. Read about it here.